Judge Teresa Ballinger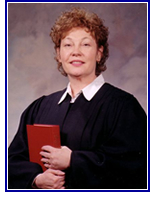 Marion County Municipal Court Judge Teresa L. Ballinger was born in Marion, Ohio and graduated from Pleasant High School in 1975. She attended Ohio Dominican University in Columbus, Ohio and received a BA in Psychology in 1979. In 1984, Judge Ballinger returned to Ohio Dominican and completed her education degree. Judge Ballinger received her JD from Capital University Law School located in Columbus, Ohio in 1994.
Judge Ballinger began her professional career as a case worker in 1979 at the Marion County Job and Family Services. In 1980, she accepted a position as a social worker for the Marion City Schools. From 1984 through 1995, Judge Ballinger taught Social Studies and Special Education at Pleasant High School.
Judge Ballinger attended law school from 1990 through 1994 and was admitted into the practice of law in the State of Ohio in November of 1994. She began her legal career in private practice with Ted Coulter, Steve Phillips and Brent Yager on South Main Street in Marion, Ohio.
In December 2004, Judge Ballinger was appointed to the Marion County Municipal Court and, thereafter in November of 2005, was elected to her first term as Judge of the Marion County Municipal Court. She is currently in her third full term.
The Judge's professional activities include the following: Ohio Municipal and County Judges Association; Ohio Supreme Court Specialized Docket Commission member; Ohio Judicial College Alternative Dispute Resolution Committee co-chair and member; Ohio State Bar Association; Marion County Bar Association; Marion Rotary; Junior Service Guild and Women's Business Counsel.
Since Judge Ballinger has taken the bench in the Marion Municipal Court, she has instituted a victim assistant program at the court, commenced an aggressive collections program to capture past-due fines and costs, established a probation fee to supplement the probation budget, and created a "driving-under-suspension docket" so as to assist and guide individuals in the acquisition of a valid driver's license.
Judge Ballinger received the ATHENA award in 2012 and the McLin award for innovations in community control in 2017.
Judge Ballinger oversees three specialized dockets: a mental health docket, a drug court and a veteran's treatment court.
Judge Ballinger and her husband, John Shank, reside in Marion, Ohio. Judge Ballinger has two sons and three step children. She enjoys biking, hiking and pickleball.
Please read Judge Ballinger's article "A Judge's Perspective on Bridges Out of Poverty" appearing in the fourth quarter 2010 issue of For the Record (requires the FREE Adobe Reader).